Premium Wreath-Making Solutions for the Holiday Decorative Industry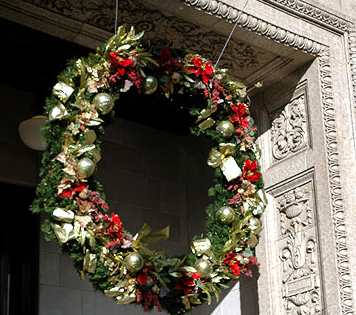 When major holiday decorators are called upon to create a festive look within a department store, major shopping center or holiday-themed downtown area, one of the first calls they make is to Mitchell Metal Products. We provide custom wire wreath forms along with a complete range of commercial wreath-making supplies and equipment utilized by leading holiday decorators across the country.
Mitchell Wreath Rings Offers Everything Your Decorative Business Needs to Craft Quality Custom Wreaths All Through the Holidays
Mitchell Wreath Rings and our efficient custom wreath-making machines are behind the scenes throughout Christmas and the holidays. Our premium, cost-effective wire wreath forms and commercial crafting equipment enable professional decorating companies to easily produce the festive holiday greenery that their communities enjoy all season long.
Our efficient wreath-making equipment allows decorators to turn out large wreaths for display on buildings, swags for doors, candy canes for light posts as well as unique custom wreath forms and floral arrangements for every holiday and occasion. The reliability of our premium steel wire forms and custom-engineered crafting equipment means decorators can get the job done quickly and reliably without call-backs for greenery failure due to poor clamp ring performance. Our green painted products are perfectly suited to indoor decoration requirements and give decorators extra aesthetic options to consider when approaching a custom decoration job.
Mitchell Wreath Rings has been called on to produce many custom wreath frames for large format projects. One of the most recent is a multi-section, 20-foot diameter triple rail wreath ring used on a large commercial building on the U.S. East Coast.
Mitchell Wreath Rings: Premium providers in the holiday decorative industry. Ask for them by name.
Contact us today to learn more about how our wreath-making supplies can support you with your holiday decorating contracts. Mitchell Wreath Rings are simply the best wreath forms available. Ask for them by name.