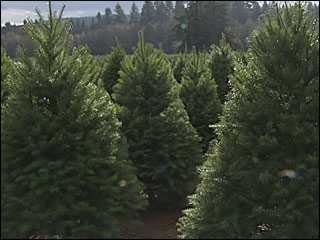 Mitchell Metal Products supports the Christmas Tree Industry with its active membership in the National Christmas Tree Association and our support of the NCTA's activities to promote Real Christmas Trees.
Mitchell Wreath Rings, wreath-making machines and other wreath-making equipment play an important part in the Christmas Tree Industry. Our products provide an outlet for Christmas Tree farmers to use culled trees and foliage that would otherwise go to waste. Wreaths and other festive specialty forms are important side products for many Christmas Tree operators. Wreath production becomes a profit center that boosts the annual net income. Utilizing waste as a raw material improves the efficiency of farm operations.
A number of Christmas Tree farms across the U.S. have converted a portion of their operations to sustainable foliage production in support of their wreath-production operations. Some have taken sustainable foliage production to high levels and now offer premium boughs for sale to wreath producers. They report higher returns on their investment compared to their Christmas tree operations.
Mitchell Metal Products is your source for wreath rings, wreath-making machines and related wreath-making equipment. Our wreath rings are simply the best available. Contact us for more information! Mitchell Wreath Rings: Ask for them by name.